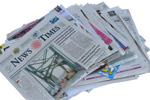 Two articles caught my eye this past week. In the first, we learn that Fannie Mae will be asking you, the taxpayer to cough up another $4.6 billion to make up for recent losses.
In a statement, Fannie Mae points to the major losses last quarter are the fault of homeowners paying less interest, having been granted permanent modifications at much lower mortgage rates… [emphasis supplied]
Fault?…and, who would have thought that a lender would have less income when it lowered interest rates?
In the second, we learned that GM will be idling production of the Chevy Volt for five weeks, as, it seems that very few customers want them.  The comments of GM's North American chief, Mark Reuss are enlightening.
A planned new national advertising campaign and rising gas prices also should bring in more customers, he said.  'There are some really good things happening and we are going to keep that momentum', he said. [emphasis supplied]
And, all the while, you thought rising gas prices were bad.  Silly you.
https://radioviceonline.com/wp-content/uploads/2009/12/featured-newspapers.jpg
100
150
SoundOffSister
https://radioviceonline.com/wp-content/uploads/2011/02/rvo-logo-4-300x100.jpg
SoundOffSister
2012-03-04 12:26:58
2012-03-04 12:27:16
Did they really say that?